Introduction to Landprofit
Founded by XinYue in 1992, Ningbo XinYue Artist Machinery Manufacture Co.,Ltd. is a manufacturer specialized in aluminum case and working light under Landprofit Group Incorporation, and export to USA, Japan, Europe and so on. The yearly turnover amounts to USD10,000,000. There is more than 17 engineers for technology and new designers. We pursue high-efficient and economic enterprise management. The quality control system is based on TQM program to organize parts-processing until complete products. Landprofit products are designed in the best materials and new processes, bringing form and function together, with practicality in mind. We hope that you too will come to appreciate Landprofit products, and reward yourself.
---
Our History

In 1999, with the rapid growing of large quantity of the labor force usage, the administrative expense is going up, by the quality stable manbagement ability is going down at the same time. For this reason, company decide to proceed the technique equipments reforms, and take it into practice in year 2000 that"deducing the production area, increasing the process equipments and production efficiency". Investing more than RMB 3,000,000 in improving the craft constuction processing, then investing more than 1,000,000 insoftware that deigned by experts used for the full set of an equipments to change the craft construction thoroughly, dissolve the management system on quality guarantee into production management. This project turns into reality, increased efficiency, guaranteed the stability of the quality, lowered the manufacturing cost, the production speed in this year comes to 20 pcs standard case in one minute. There are 31 engineers in factory, 11 designers among them, After devoting market with 24 categories and 170 specifications, the factory has had the independence development and design ability. At the end of 2003 years, company begin to develop the professional physical and chemistry laboratory and invest more than RMB 800,000 in equipping the excellent examination machines. It is become the foundation of management in systematism.
Top
---
Quality Management
In order to guarantee the product quality, the company adopt the TQM(Total Quality Management):control the every procedure from raw material to shipment, including the shape of material, buy, process, the finished product and packing, checking step by step to ensure the quality.

Top
---
Our Markets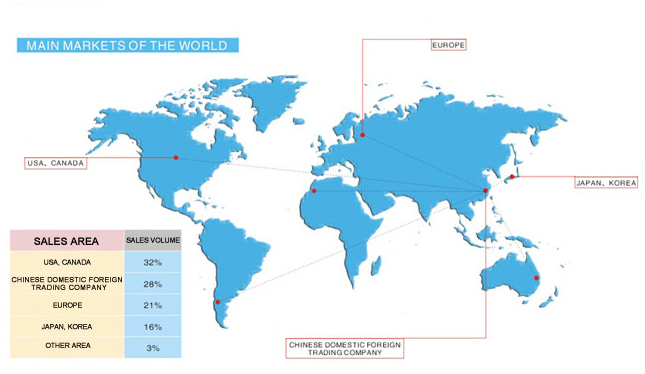 ---
Top